2015年10月6日

DF観光立国研究会

観光立国研究会(English Tentative Version )

Unknown Japan
-----

Places near to but other than Mt. Fuji

-----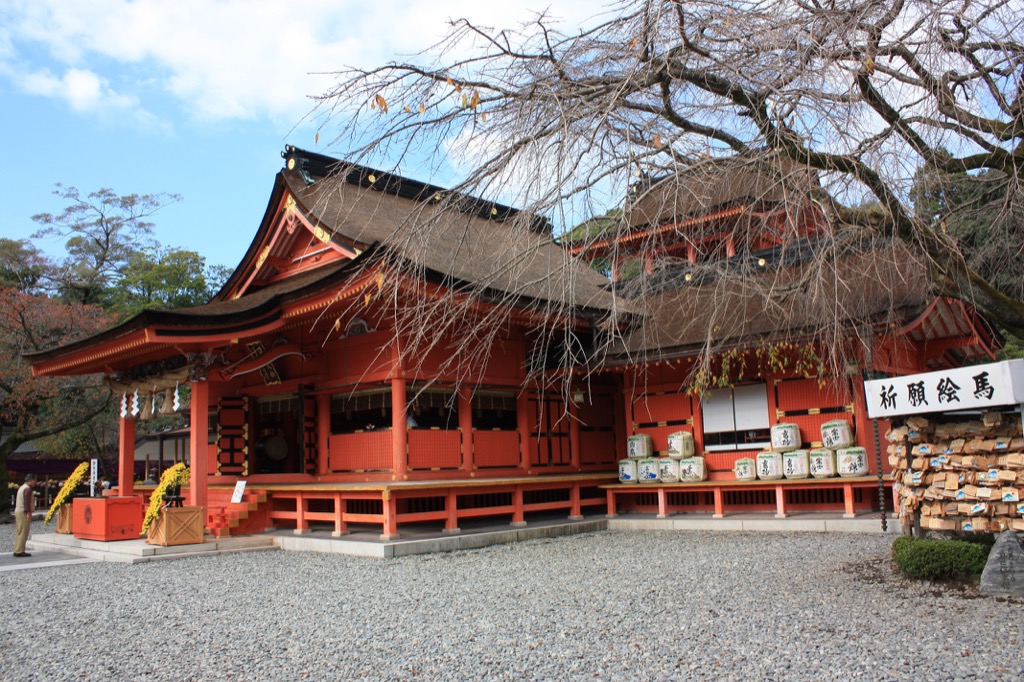 Fuji-Hongu Sengentaisha
Shizuoka Prefecture offers many spots for viewing Mt. Fuji in variety of beautiful surroundings such as ones over the sea coast of Miho-no-Matsubara and also Nishi-Izu as well as over farmland and plateau like Asagiri-Kogen. But it also offers interesting spots of tourism not well known. I have recently made a trip to some of such spots and enjoyed them tremendously.
First Fujinomiya City itself where I found Fuji-Hongu Sengentaisha a quite charming shrine. The original shrine started at the time of the eleven's Emperor Suinin (29BC-77AD) to pacify the rage of Mt. Fuji eruptions located up north toward the mountain and in 806 the new shrine was built here.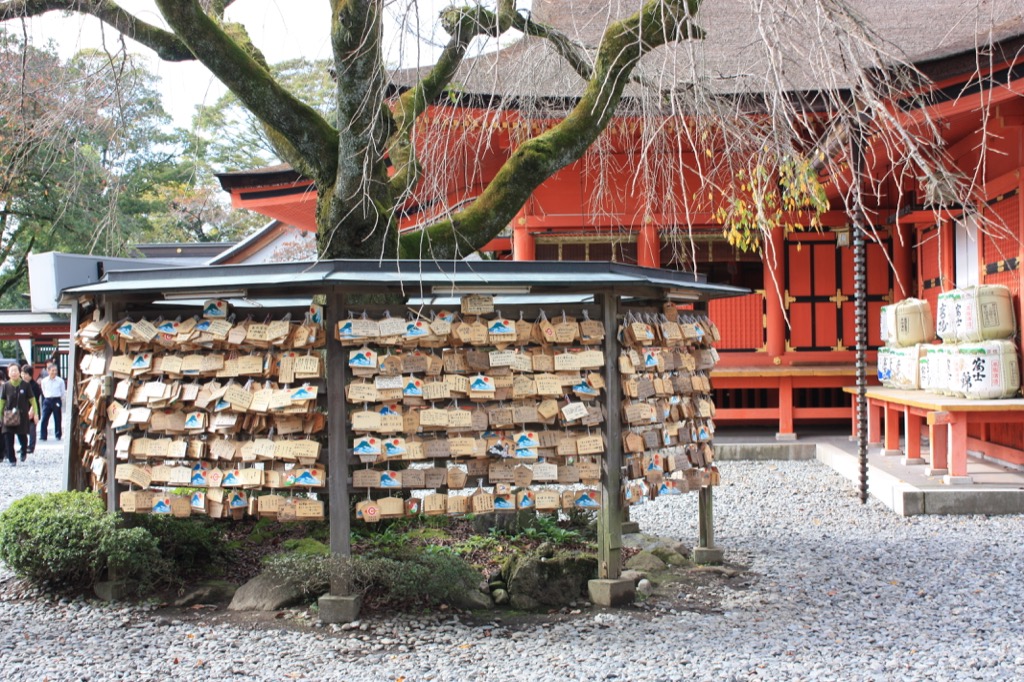 A corner to hang Emas
People come here to pray, for not necessarily pacifying the rage of the mountain, rather for own happiness and wishes such as marriage, birth of babies, passing examinations of all kinds. To ensure such wishes to be realized many write their wishes on a little wooden plate called "Ema" and hang them at the specified spot in front of the shrine. To do this you must buy an Ema plate which among others contributes to the finance of the shrine. Along a long and tidy walk-pass to the shrine you could meet with local people volunteering to explain and answer any questions about the shrine. You could hear quite interesting and enlightening stories about the shrine and history. Charming little ponds inviting ducks could be good spots for taking photograph. Out of "Torii"(sacred arch) across the road you find a small square where a dozen of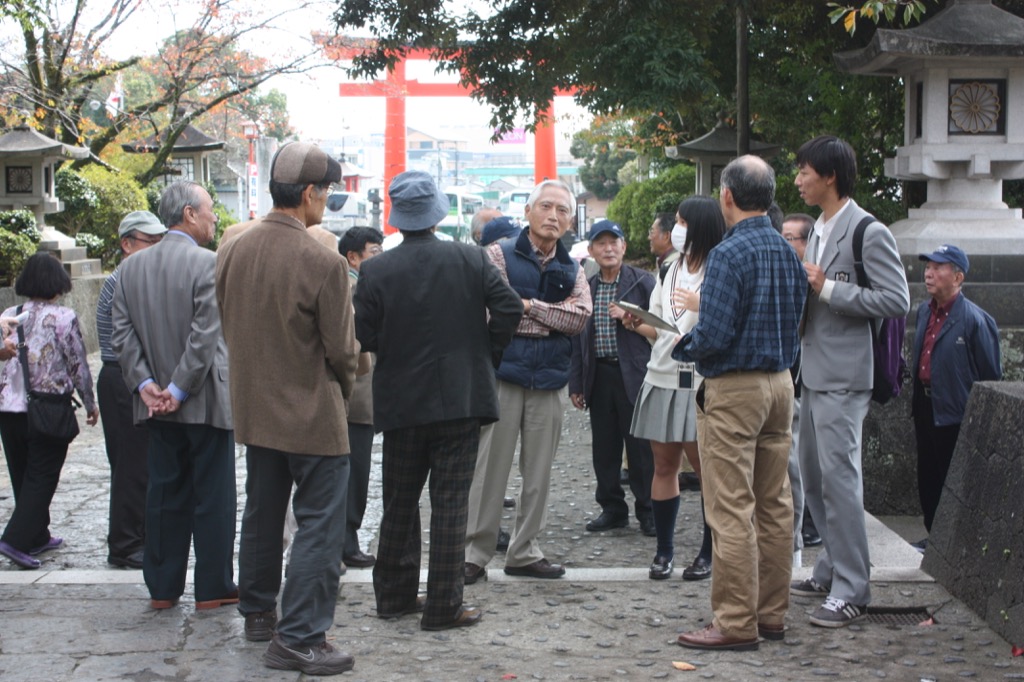 Volunteers excite visitors
tiny shops surrounding a plaza with tables and chairs sell souvenirs, snacks and drinks (including sake and beer !) Some of them cook and sell "Yaki-soba" (fried noodles) well-known as "Fujinomiya Yakisoba", one of "B class Gourmet" some Japanese people named. It was quite tasteful and went extremely well with beer. In Japan one encounters with such light meals which are simple but tasteful and cheap meals others being "Ramen" (noodles with soup), "Gyudon" (Sukiyaki on rice-bowl) and "Okonomiyaki" (pan-cake with noodles) etc. It could be great fun to come here at times of festivals.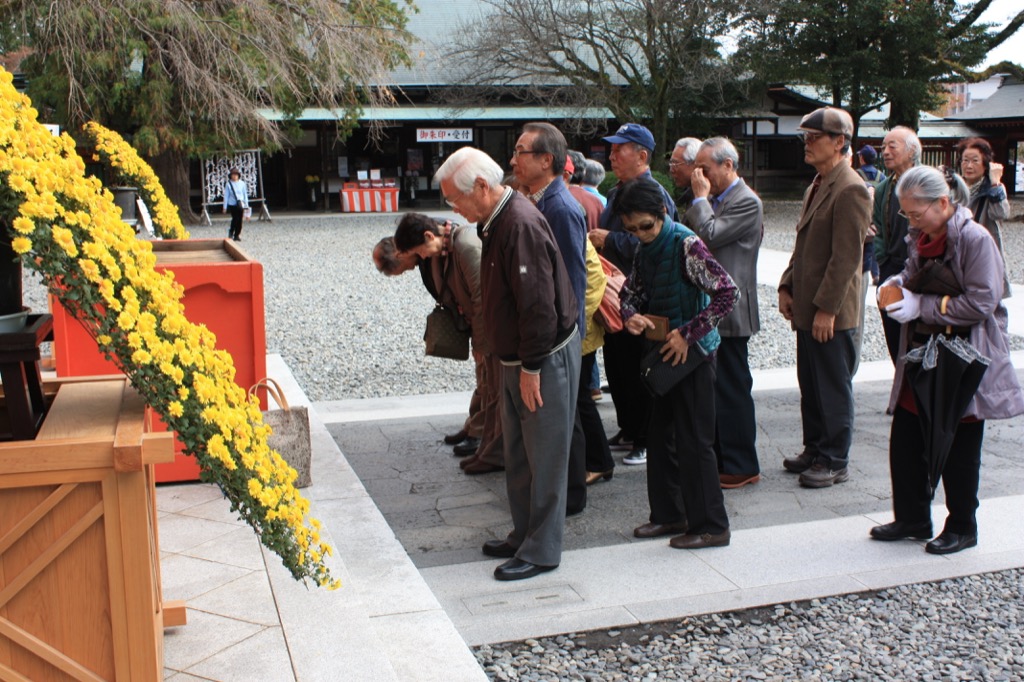 People praying for their own wishes !
In early February a festival to ward off the evil and pray for good fortune by throwing beans over many people praying called "Mamemaki". In early May "Yabusame" (Horseback archery) takes place. And more in summer and autumn. Near Fujinomiya there are quite a few more places of interest. Water falls are examples such as Shiraito and Asahi Falls. An ancient cherry tree at Kariyado no Gebazakura and nearby clan houses deserve visiting in spring. I suggest you look up a home page at http://fuji-hongu.or.jp/sengen/english/index.html
You could reach Fujinomiya City by taxi for 30 minutes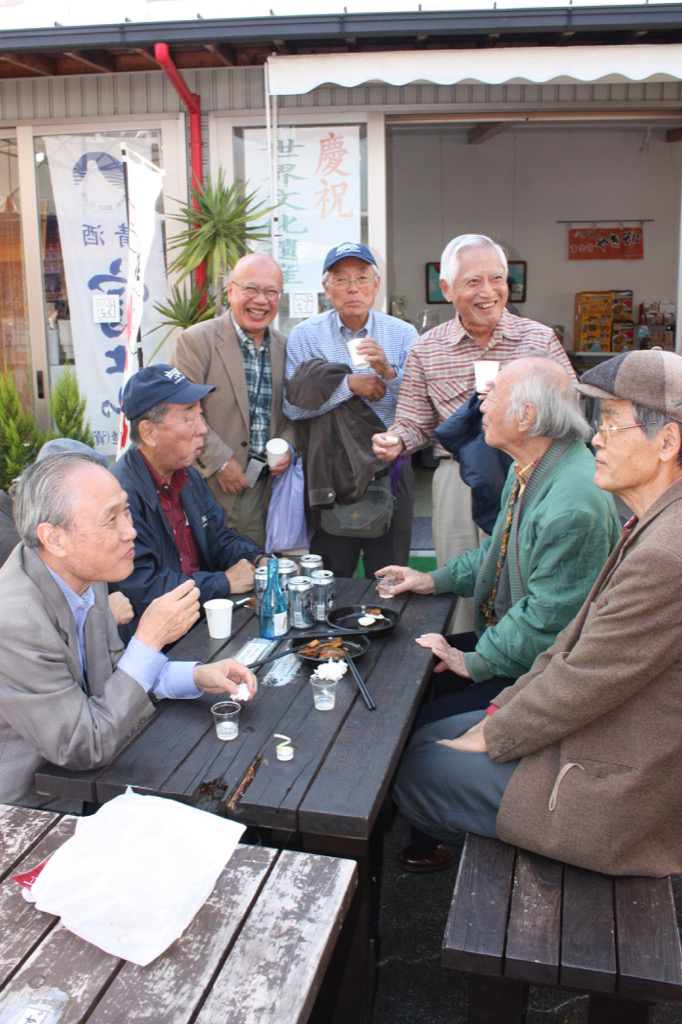 Travelers enjoy
"B Class" Giurmet
from Shin Fuji St. on Shinkansen or 10 minutes walk from Fujinomiya Station on Minobu Line. However for other purposes within Shizuoka Prefecture such as the undergoing it could be best to rent a car at Shin Fuji Station.
I stayed at Yaizu Grand Hotel which provided clean and efficient accommodation and good dinner and breakfast with ocean view. This hotel is a typical tourist hotel which could accommodate a few hundreds guests at a reasonable rate so that it attracts many groups of tourists. With such a hotel one usually encounters uncomfortably with many other guests in bath- room, lobby and dining room. But here I did not mind even the same situation probably because dinner and breakfast were so good at the price. Noteworthy are good tuna-sashimi (Yaizu is a known port for tuna and bonito fishing boats to discharge the captured) and other delicious seafood dishes. They served a quite good Muscadet-Sevre-et-Maine which went quite well with the meals.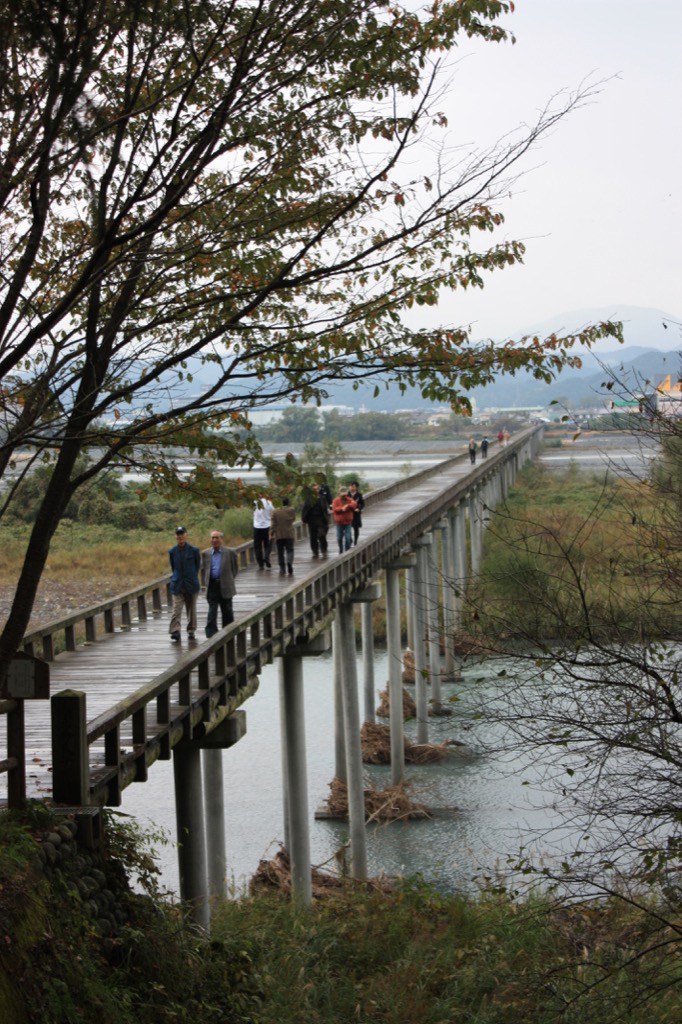 It is quite a long walk
but deserves
The second place that I visited and found interesting was an old and long wooden pedestrian bridge over Oigawa River in Shimada City. The bridge constructed by woods with width of 2.7 m stretches to over 897m. It was first built in 1879 and its pier was reinforced by concrete piles in 1965. The bridge was registered in the Guinness of Records in 1997 as the longest wooden walking bridge. In old days travelers crossing the river had to pay a lot of money to men either carrying travelers over the shoulder or by a box carriage, a kind of "Rikisha" on water. In the Shimada city Museum records show that different toll rate was fixed and applied every morning depending on water depth. So when it was first built it must have been revolutionary as many men had lost the job and travelers paid cheaper toll and crossed the river much faster.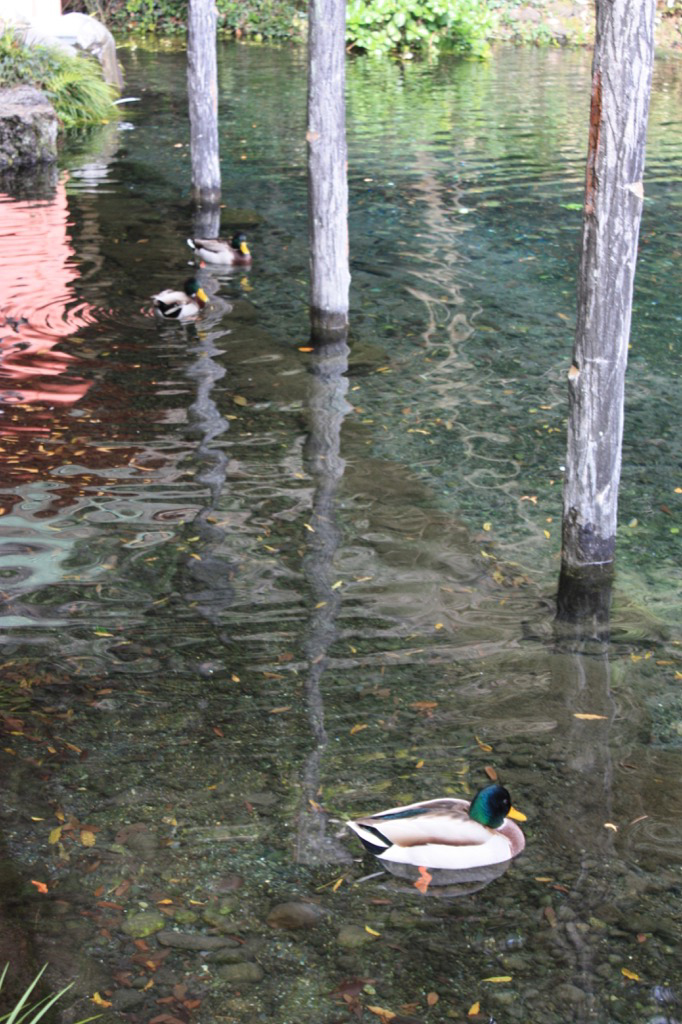 A duck finds this little pond comfortable
It is fun to actually walk over the bridge and look over the river. There are many good spots to take photograph including one with Mt. Fuji in the back if the weather is good. It is located 20 minutes walk from JR Shimada Station. As for lunch or dinner you could find high quality Japanese restaurant at very reasonable prices particularly near the City Hall.
Another point of interest nearby is a locomotive train journey along the Oigawa River. I tried it myself but it is not comfortable nor particularly exciting to look out the windows as landscape along did not look so attractive. I would rather recommend you to find good spots to take photographs of the train running particularly over a bridge.
平成27年1月6日
ディレクトフォース観光立国研究会
(2014/12/29 Written and photograph by Tomoyuki Imai)